Yoga for Stress Management
Many people are now trying yoga for stress management. Does it work? And which style of yoga is best? There is no question that regular yoga practice will make a difference to one's life and it really doesn't matter what kind of yoga is practiced. For the majority this will usually be a physical approach to yoga and the benefits will in turn be primarily physical.
They include better respiration, enhanced circulation, greater flexibility, and an overall feeling of physical well being.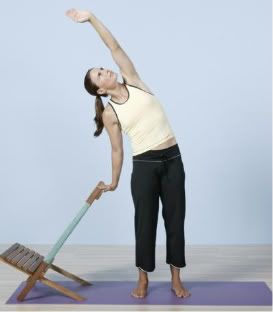 All of this will contribute to reducing stress. However, when the rubber hits the road in day to day life in areas where stress is likely to be triggered – at the office or at home – it just might not be enough to make much difference.
Yes, you read that right! All the effort of getting to that yoga class and practicing diligently just might not prevent you from that angry outburst, that frustrated look, or that deep feeling of despair and helplessness.
It really depends not so much on the style of yoga you practice but more importantly HOW you practice. If you do practice yoga to help you to manage stress in your life there is one simple concept that will make all the difference. This article that I wrote and that was published in Yoga Journal explains it.
Playing the Edge

The "edge" in yoga is one of the key concepts of Phoenix Rising Yoga Therapy.

A series of individual Phoenix Rising Yoga Therapy sessions is an ideal way to use yoga for stress management. In a Phoenix Rising session, you will not only let go of tension and become more relaxed, you will also learn the source of your stress and what is happening in your day to day life that creates it.
There are also a number of Phoenix Rising Group Facilitators who run stress management groups based on the program outlined in my book Turn Stress Into Bliss.

These groups run for eight weeks and are usually limited to around ten participants. Studies have shown that participants in these groups reduce their stress related symptoms by an average of fifty-five percent. Could you use 55% less stress in your life?
Click on this link below for a current list of Phoenix Rising Group Facilitators offering these programs - Yoga for Stress Management

Yoga therapy can be an effective tool for managing stress if a mind-body approach is used as discussed in this recent article on Yoga and Psychotherapy in TIME magazine.

Read Vince's Story to learn about the distinction between the "essence" and "form" in yoga and learn how to get the maximum benefit from your practice. Also take a look at this article on yoga and emotions.

For even more information about how to make yoga an effective stress management tool, read these Eight Great Tips.

Do you know anyone who is really stressed out but can't find the time for yoga? This is very true for many people these days. Help them out with a link to these articles.

What is Yoga Therapy

5 Easy Yoga Exercises to Get Started and Have a Laugh

Yoga Therapy For Stress

Yoga for Stress - Catch 22

Return from Yoga for Stress Management to Home Page